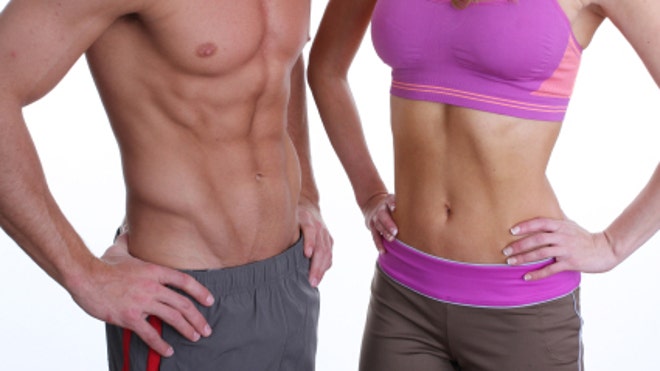 Been a while since the Ape's had anything to say other than thank you for all of the orders and continued customer loyalty! Nothing out of the ordinary, just some summer fun, alot of research and development, and of course maintaining that Primal Lifestyle.
On the topic of research, last monday (September 2nd) marked the end of my Six week challenge. The challenge you ask? No training. None, Zip, Nada for 6 whole weeks. The test was to find out where the real power of body maintenance comes from; Plates in the gym? Or the plate at your table? The results were a bit different than what I had expected. My fear was that without training, I would slip into some weird "fat building" mode, and be back to my old self of some 4 years ago long before the 6 weeks was over. However, my old self is still long gone. In fact, I maintained every ounce of muscle, had no noticeable decrease in strength, and (drumroll please) I actually dropped another inch around the waist!
Here is my daily routine for the six week (zero training) test;
Within thirty minutes of waking up (usually about 05:30), consume a serving of Pre-Workout (I used RAMPAGE), followed by a serving of Whey Protein (I used PRIMAL PROTEIN). Note, no matter the brand of Protein that you use, do not exceed 29 grams per serving, as the human body simply cannot digest any more, so it works overtime to turn the excess into waste.
A couple hours later,  I would have a breakfast of uncooked Oats (I used Quaker Quick Oats) with Whey Protein instead of Milk (I used PRIMAL PROTEIN).
By 10:00am, I made sure to eat my second meal of the day. Typical meal would be a Chicken Breast or 10oz Steak with Asparagus (many many many many thanks to my AWESOME WIFE for preparing frozen "Bowls" for me). Bowls are just the contents of one of my meals crammed into a small bowl with a lid that I can pop into the microwave and eat anytime, anywhere. I usually just had water with the 10am meal.
Lunchtime, also the last meal of the day that I would introduce any substantial carbs, usually consisted of another bowl, and two Whole Grain Tortillas topped with the almighty Cholula sauce.
14:00 (2pm), I would have yet another bowl and this time chase it down with another serving of Whey Protein (I used PRIMAL PROTEIN).
16:30 – 17:00 (about 5pm) If the family was eating on a regular schedule (They are usually very late eaters),  I would just eat with them. If not, I would grab another bowl and then hang out with them later when they ate their dinner. If I needed a dessert, or something in front of me during mealtime, I would just whip up another shake (I used PRIMAL PROTEIN).
21:00 (9pm) IMMEDIATELY before bed, I would mix 1/2 serving of Whey Protein (I used PRIMAL PROTEIN) with 1 whole serving of Casein Protein (I used CASEIN CRUSH). This last dose of the day protects the body as it repairs and rebuilds over night. Why the mix? I'll be honest… there is no such thing as a "tasty" Casein! CASEIN CRUSH is not bad, and MUCH better than some others I have tried, but I really like the taste with one of the Whey Flavors (Strawberry Whey and Vanilla Casein are AMAZING together!!!)
The hardest part was NOT working out! I would wake up at my normal time, and shuffle through the house not knowing what to do with myself. I ended up taking that temporary extra time to answer my emails for the day and that helped take my mind off of the gym that I was missing.
The take away – Normally, time in the gym is spent in two phases;
The part where you fight to kill what you've put into your body (fat, carbs, sugars, useless food) the day before
The part where your body actually starts to do what it was designed to do and burn the proteins and fat stores as fuel
I've said it before, and I will say it again, you wouldn't run 85 octane fuel in a Lamborghini… this body is as close to a Lamborghini as I think I will ever come, so it's only high octane fuel for me!
Now… back to the gym!!! Until next time, LIVE PRIMAL!